By definition, a therapeutic diet is a diet prescribed by a healthcare professional that controls the intake of certain nutrients or foods for management of chronic illness or disease. With many adults living with a chronic health condition, there are thousands of individuals currently on therapeutic diets. Some common types of these include the diabetic diet, gluten free diet, low FODMAP diet & the autoimmune protocol diet, the list goes on. Yet in society most people don't even know that they exist, or acknowledge that some may have dietary requirements necessary for their health not just preferences.
Too often, individuals on therapeutic diets have to deal with dietary discrimination, and are commonly accused of being complicated or fussy eaters. This shows that as a society we are not as inclusive as we think we are surrounding food. This kind of dietary discrimination can be incredibly isolating, as we are so often taught to share and celebrate with food. Most restaurants only have very limited dietary requirement options, many chefs are unaware of just how serious cross contamination can be and many families find it hard to understand an individuals needs, all because of lack of awareness.
I started Princess Poorly to change this. I believe that everyone should be able to love the food that they put into their body, and that we as chronically ill individuals can overcome anything, one meal at a time. Most of my recipes are low FODMAP, Gluten Free, Dairy Free & Refined Sugar Free, alongside egg free, nut free, vegan and vegetarian options. Creating recipes that nearly anyone can enjoy, as well as creating resources for friends and family to use is just a small step towards a more inclusive approach to food. So here is one of my all time favourite Low FODMAP, GF, DF and low sugar recipes, just for you!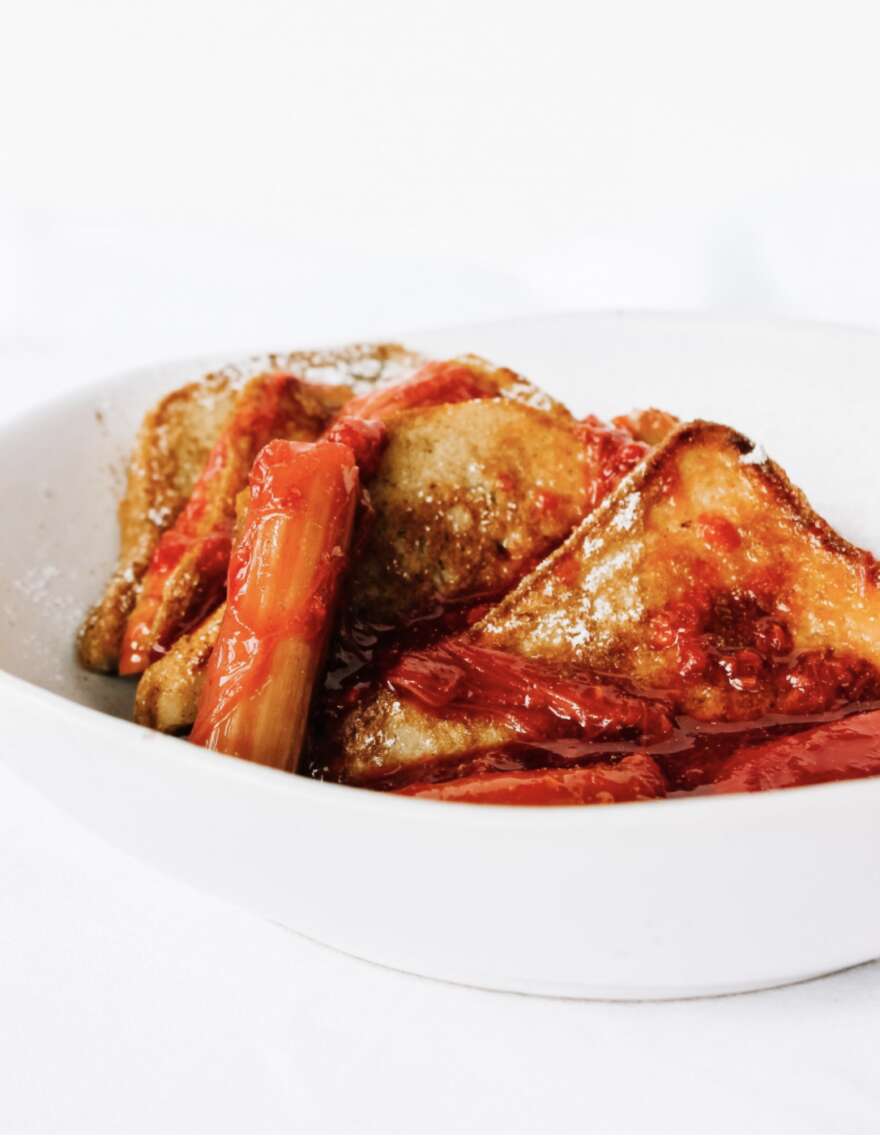 Cinnamon French Toast
The recipe is low FOODMAP, Gluten Free, Dairy Free & Low Sugar

1/2 cup of Raspberries (I used frozen)
1 cup of Rhubarb (around 3 stalks chopped)
1/2 cup of Water
3 tbsp of Rice Malt Syrup of Maple syrup
Squeeze of Lemon Juice
3 tsp of cornflour- dissolved in a small amount of water to create a paste.
Note on the Coulis: This may make more than you use, depending on how much you would like to put on your French toast, if so you can freeze the leftovers and use later!
You'll Need:

2 Eggs
1/4 cup of Almond Milk
1 tsp of Ground Cinnamon
1/2 tsp of Ground Cardamom
1 tsp of Vanilla Extract
4 slices of White Gluten Free bread
Coconut Oil for Frying
Method
Start by preparing the poached rhubarb and raspberry coulis. To do this add all of the ingredients into a small saucepan apart from the cornflour paste. Allow this mixture to simmer over a medium heat for 3-4 minutes until the rhubarb becomes soft. Make sure to keep a close eye on this mixture as the rhubarb can turn easily and become stringy. Once the rhubarb is cooked, add the cornflour paste and stir gently to thicken. Remove from the heat and put aside.
For the cinnamon french toast add the eggs, almond milk, cinnamon, cardamom and vanilla extract into a bowl and whisk to combine until the mixture becomes slightly fluffy. Then heat a pan over a medium heat, and grease with coconut oil. While the pan is heating, soak the first piece of bread in the mixture, do this by allowing the bread to soak for a minute on each side until it has fully absorbed the mixture, don't allow the bread to sit in there for too long as it will become too soggy and may break. Place the bread carefully into the heated pan, and allow to cook for 2-3 minutes on each side or until golden and fully cooked through. Repeat these steps with all of the pieces of bread.